It's no surprise that bacon on a burger is a special kind of heaven.  There are a lot of restaurants, big and small, adding the salty goodness to their burgers.  We've compiled a list of hamburgers that could make a vegan cry.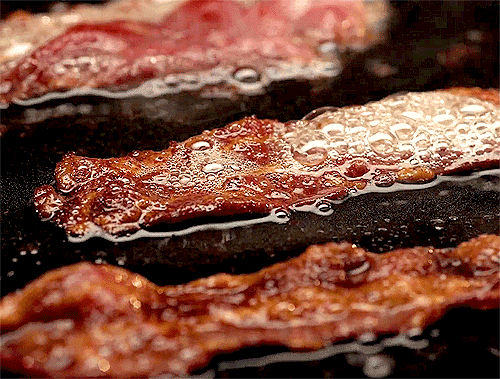 Who piles on the pork?
1.  Twisted Root Burger Co.
The Kevin Bacon burger from Twisted Root Burger Co.  is not only a funny pun, it's a delish dish.  Three golden brown strips of bacon sit atop your meat patty along with Danish blue cheese.  The saltiness of the cheese pairs well with our porky favorite.
2.  Jack Brown's Beer & Burger Joint
Jack Brown's Beer & Burger Joint has some pretty intense burgers on the menu.  Each burger patty is made of natural wagyu beef.  THE ELVIS could be considered the king of the burgers.  This delicious monster is topped with peanut butter, mayo, Applewood smoked bacon and cheese.
While you're there, you should finish the meal with a Deep-Fried Oreo.  It's enough goodness to get you "All Shook Up."
3.  Twin Peaks
If you're looking for a bacon experience, the Billionaire's Bacon Burger will take you on a flavor trip.  Besides the sugared bacon, which really could be a meal on its own, there's also sriracha, pimento cheese, bacon mayo and bacon beer mustard in the sandwich.  It's bacon overload, in the best way possible!
4.  The Cowfish Sushi Burger Bar
Can't decide if you want a burger or barbecue, then head to a sushi place!  Hear us out on this one.  The Cowfish Sushi Burger Bar's TEXAS LONGHORN is the best of both worlds, with a ton of tasty bacon.  On top of the beef and cheese, you get jalapeño bacon, BBQ sauce, and onion strings on a brioche bun.  No soggy meat here.  The bacon has just the right level of crispness.
5.  Mugshots Grill & Bar
With a whopping six strips of bacon, THE MUGSHOT makes our list from just the sheer size and amount of meat.  The mega burger has three beef patties, cheddar and Swiss cheese, along with all the usual toppings.  It's not for the faint of heart, just the really hungry.  It's not available for takeout because of the eating challenge.  THE MUGSHOT includes beer battered fries, an onion ring, and a fried pickle spear on the side.  Finish it all in 12 minutes or less, and it's free.  Make sure to wear your special eating pants, though.
Burger lovers may also be interested in
Stay Connected
Stay up to date with all things Magic City Weekend!