Halloween season is here and that means all the most popular streaming services are filled with scary films. We've rounded up a list of the best horror movies that are streaming right now on Netflix, Amazon Prime Video, Hulu, HBO Max and Shudder. So grab some popcorn, turn down the lights and let's get right into it!
Modern Horror Movies
Hereditary
When Ellen, the matriarch of the Graham family, passes away, her daughter's family begins to unravel cryptic and increasingly terrifying secrets about their ancestry. The more they discover, the more they find themselves trying to outrun the sinister fate they seem to have inherited. Making his feature debut, writer-director Ari Aster unleashes a nightmare vision of a domestic breakdown that exhibits the craft and precision of a nascent auteur, transforming a familial tragedy into something ominous and deeply disquieting, and pushing the horror movie into chilling new terrain with its shattering portrait of heritage gone to hell.
The House of the Devil
From writer/director Ti West comes perhaps the most intense shocker of the year: Desperate for quick cash, college sophomore Samantha Hughes takes a babysitting job in the isolated mansion of the creepy Ulman family. Ignoring the warnings from her best friend Samantha, she has no idea that a nightmare of unspeakable fear and torment awaits her within these walls. At midnight, in the shadow of a full lunar eclipse, the ultimate evil will be unleashed. Cult icons Tom Noonan, Mary Woronov, and Dee Wallace co-star in the acclaimed demonic thriller that fans and critics hail as an unnerving return to late 70s/early 80s classic horror.
Amazon Prime and Shudder
Veronica
In 1991 Madrid, after holding a séance at school, a teen girl minding her younger siblings at home suspects an evil force has entered their apartment.
Midsommar
Dani and Christian are a young American couple with a relationship on the brink of falling apart. But after a family tragedy keeps them together, a grieving Dani invites herself to join Christian and his friends on a trip to a once-in-a-lifetime midsummer festival in a remote Swedish village. What begins as a carefree summer holiday in a land of eternal sunlight takes a sinister turn when the insular villagers invite their guests to partake in festivities that render the pastoral paradise increasingly unnerving and viscerally disturbing. From the visionary mind of Ari Aster comes a dread-soaked cinematic fairytale where a world of darkness unfolds in broad daylight.
It Follows
After a seemingly innocent sexual encounter, 19-year-old Jay (Maika Monroe of THE GUEST) suddenly finds herself trapped by a vicious curse – someone or something is following her, and the only way to save herself is to put others in harm's way. Stylish and terrifying, IT FOLLOWS is the critically acclaimed horror of the year!
Let the Right one in
Oscar, an overlooked and bullied boy, finds love and revenge through Eli, a beautiful but peculiar girl who turns out to be a vampire.
Suspiria
A darkness swirls at the center of a world-renowned dance company, one that will engulf the troupe's artistic director (Swinton), an ambitious young dancer (Johnson), and a grieving psychotherapist (Ebersdorf). Some will succumb to the nightmare. Others will finally wake up.
Oculus
Ten years ago, a horrifying incident left two young children orphans. The brother was charged with murder, but his sister believed that the true culprit was a haunted antique mirror and is determined to prove that it was what destroyed their family.
Apostle
In 1905, a drifter on a dangerous mission to rescue his kidnapped sister tangles with a sinister religious cult on an isolated island.
The Ritual
Four friends with a long-standing — but strained — connection take a hiking trip into the Swedish wilderness, from which they may never return.
Creep
Looking for work, Aaron (Patrick Brice) comes across a cryptic online ad: "$1,000 for the day. Filming service. Discretion is appreciated." Low on cash and full of naiveté, he decides to go for it. He drives to a cabin in a remote mountain town where he meets Josef (Mark Duplass), his cinematic subject for the day. Josef is sincere and the project seems heartfelt, so Aaron begins to film. But as the day goes on, it becomes clear that Josef is not who he says, and his intentions are not at all pure. The directorial debut of Patrick Brice and produced by Jason Blum (PARANORMAL ACTIVITY, INSIDIOUS) and Mark Duplass (SAFETY NOT GUARANTEED), CREEP's intense interplay between its two protagonists upends expectations at every turn.
1BR
After leaving behind a painful past to follow her dreams, Sarah scores the perfect Hollywood apartment. But something is not right. Unable to sleep, tormented by strange noises and threatening notes, her new life quickly starts to unravel. By the time she learns the horrifying truth, it's too late. Caught in a waking nightmare, Sarah must find the strength to hold onto her crumbling sanity…or be trapped forever in an existential hell.
Pet Semetary (2019)
Based on the terrifying novel by highly-acclaimed author Stephen King (It)… After the Creed family relocates from Boston to rural Maine, they soon discover an ancient burial ground hidden deep in the woods near their new home. When tragedy strikes, the grief-stricken father is driven by the cemetery's sinister power, setting off a perilous chain of events that unleashes an unfathomable evil with horrific consequences. Some secrets are best left buried in this twisted thrill ride.
Prime Video and Hulu
Child's Play (2019)
A contemporary re-imagining of the 1988 horror classic, "Child's Play" follows Karen (Aubrey Plaza), a single mother who gifts her son Andy (Gabriel Bateman) a Buddi doll, unaware of its more sinister nature.
Prime Video and Hulu
The Conjuring 2
The supernatural thriller brings to the screen another real case from the files of renowned demonologists Ed and Lorraine Warren. Reprising their roles, Oscar nominee Vera Farmiga and Patrick Wilson star as Lorraine and Ed Warren, who, in one of their most terrifying paranormal investigations, travel to north London to help a single mother raising four children alone in a house plagued by malicious spirits.
US
From Academy Award®-winning visionary Jordan Peele comes another original nightmare. Starring Oscar® winner Lupita Nyong'o (12 Years a Slave) and Winston Duke (Black Panther), an endearing American family is pitted against a terrifying and uncanny opponent: doppelgängers of themselves.
Sinister
True crime novelist Ellison Oswald (Ethan Hawke) is so desperate to repeat the success of his first book that he moves his family into a home that served as the setting of a brutal murder. But instead of inspiration, Ellison finds a box of mysterious home movies in the attic that seem to point to unspeakable terrors — ones that could threaten his entire family.
It Comes at Night
Imagine the end of the world— Now imagine something worse. Award-winning filmmaker Trey Edward Shults follows his incredible debut feature KRISHA with IT COMES AT NIGHT, a horror film following a man (Joel Edgerton as he learns that the evil stalking his family home may be only a prelude to horrors that come from within. Secure within a desolate home as an unnatural threat terrorizes the world, the tenuous domestic order he has established with his wife and son is put to the ultimate test with the arrival of a desperate young family seeking refuge. Despite the best intentions of both families, paranoia and mistrust boil over as the horrors outside creep ever-closer, awakening something hidden and monstrous within him as he learns that the protection of his family comes at the cost of his soul.
The Blackcoat's Daughter
Two terrified girls must battle a mysterious evil force when they get left behind at their boarding school over winter break in this chilling and suspenseful horror film.
Classic Horror Movies
Night of the living dead
"One of the 20 Scariest Movies of All Time" (Entertainment Weekly), George A. Romero's Night of the Living Dead still sets the standard for all indie fright flicks. This 40th Anniversary Edition, authorized by the director himself, reanimates the landmark tale of five strangers who struggle desperately against hordes of the walking undead. Re-mastered and loaded with all-new Special Features, Night of the Living Dead remains "a bona fide classic..still very scary after all these years" (Jason Jones, Classic-Horror.com)
Prime video, Shudder and HBO Max
Dracula
Dracula is a 1931 American Spanish-language pre-Code horror film directed by George Melford. It is an adaptation of the 1897 novel by Bram Stoker and the 1924 stage play. It was filmed at night on the same sets that were being used during the day for the 1931 English-language film of the same title.
In the early days of sound film, it was common for Hollywood studios to produce foreign-language versions of their films using the same sets and costumes. Of the cast, only Carlos Villarías was permitted to see rushes of the English-language film, and he was encouraged to imitate Bela Lugosi's performance. Some long shots of Lugosi as the Count and some alternative takes from the English version were used in this production.
As of the late 1980s, this version has become more highly praised by some than the better known English-language version. The Spanish crew had the advantage of watching the English dailies when they came in for the evening, and they would devise better camera angles and more effective use of lighting in an attempt to improve upon it. This version's supporters consider it to be much more artistically effective.
House on Haunted Hill
In the Horror classic, House on Haunted Hill, five people are invited to stay the night in a haunted house by eccentric millionaire, Fredrick Loren (Vincent Price), who is throwing a "party" in honor of his fourth wife, Annabelle (Carol Ohmart), The house has a history of brutal murders. Annabelle tells the guests that her husband is insane and even the owner, who is also at the party, is convinced the house is haunted by those who were killed there.
The Evil Dead
In 1979, a group of college students who, during a weekend getaway, find a Sumerian Book of the Dead in an old wilderness cabin they've rented. When they unwittingly unleash evil spirits and demons while reading incantations from the book, that's when the real havoc begins.
Evil Dead II
Ash (Bruce Campbell), the sole survivor of THE EVIL DEAD, returns to the same cabin in the woods and again unleashes the forces of the dead. With his girlfriend possessed by the demons and his body parts running amok, Ash is forced to single- handedly battle the legions of the damned as the most lethal – and groovy – hero in horror movie history! Welcome to EVIL DEAD II, director Sam Raimi's infamous sequel to THE EVIL DEAD and outrageous prequel to ARMY OF DARKNESS!
The Texas Chainsaw Massacre
After a run-in with a group of cannibals, a young woman and her friends are terrorized by Leatherface and his chainsaw in this classic slasher.
Halloween
In 1963, Michael Meyers murders his sister on Halloween night. Years later, he escapes from a mental hospital and returns to his hometown to kill again.
Invasion of the Body Snatchers
This remake of the classic horror film is set in San Francisco. Matthew Bennell (Donald Sutherland) assumes that when a friend (Brooke Adams) complains of her husband's strange mood, it's a marital issue. However, he begins to worry as more people report similar observations. His concern is confirmed when writer Jack Bellicec (Jeff Goldblum) and his wife (Veronica Cartwright) discover a mutated corpse. Besieged by an invisible enemy, Bennell must work quickly before the city is consumed.
Poltergeist
When Steve Freeling moves his family into a new house in the development where he is the top homes salesman, it looks like things are going well for him and his family. But as his wife, Diane, and his children, Dana, Robbie and little Carol Anne, begin to unpack and settle in, strange things start happening. Almost playful at first, a mysterious force begins stacking chairs on the kitchen table, or making objects slide across the floor. But the ghostly antics soon turn terrifying as the house, or something in it, starts attacking the Freeling family, and Carol Anne is abducted by evil spirits still trapped on Earth, looking to use her innocence to get into the afterlife. This truly frightening film was written and produced by Academy Award winner Steven Spielberg ("War of the Worlds"), directed by horror movie master Tobe Hooper (the original "Texas Chain Saw Massacre"), Craig T. Nelson ("The Invisibles"), Jobeth Williams ("Fever Pitch") and Zelda Rubinstein ("Sixteen Candles"). MPAA Rating: PG Copyright © 1982 Warner Bros. Entertainment Inc.
Alien
The terror begins when the crew of a spaceship investigates a transmission from a desolate planet, and discovers a life form that is perfectly evolved to annihilate mankind. One by one, each crew member is slain until only Ripley is left, leading to an explosive conclusion that sets the stage for its stunning sequel, "Aliens."
The Exorcist III
A police Lieutenant uncovers more than he bargained for as his investigation of a series of murders, which have all the hallmarks of the deceased Gemini serial killer, leads him to question the patients of a psychiatric ward.
Prime Video, Shudder and Peacock
Hellraiser
From horror master Clive Barker comes this chilling nightmare featuring the first appearance of the hideous zombie Pinhead.
Re-Animator
A dedicated student at a medical college and his girlfriend become involved in bizarre experiments centering around the re-animation of dead tissue when an odd new student arrives on campus.
Children of the Corn
Based on the classic short story by Stephen King, CHILDREN OF THE CORN is a longtime horror favorite that has spawned six sequels and many imitations. See how it all started.
Prime Video and Hulu
An American Werewolf in London
David Kessler and Jack Goodman arrive in Northern England for a walking tour. One night, a beast attacks them, killing Jack. Weeks later Jack returns to warn David that a werewolf was their assailant and that he is now the last of the werewolves!
Horror Thrillers
Train to Busan
TRAIN TO BUSAN is a harrowing zombie horror-thriller that follows a group of terrified passengers fighting their way through a countrywide viral outbreak, trapped on a suspicion-filled, blood-drenched bullet train ride to the Safe Zone, which may or may not still be there.
Prime Video and Shudder
Sleepy Hollow
Master storyteller Tim Burton (Batman, Edward Scissorhands) weaves an eerie, enchanting version of this classic tale of horror. Johnny Depp is Ichabod Crane, an eccentric investigator determined to stop the murderous Headless Horseman. Christina Ricci is Katrina Van Tassel, the beautiful and mysterious girl with secret ties to the supernatural terror.
Dawn of the Dead
Packed with more blood, more gore, and more bone-chilling thrills, this unrated Director's Cut of the zombie thrill-ride is the version that was too terrifying to be shown in theaters!
The Lighthouse
Two lighthouse keepers (Robert Pattinson and Willem Dafoe) fight each other for survival and sanity on a remote and mysterious New England island in the 1890s. From Robert Eggers, the visionary filmmaker behind horror masterpiece 'The Witch'.
Interview with the Vampire
The undead are among us and livelier than ever when Tom Cruise, Brad Pitt and a talented group of young-bloods star in Interview with the Vampire, the spellbinding screen adaptation of Anne Rice's best seller that's "one the best films of the year" (Caryn James, The New York Times). Award-winning box-office favorite Cruise stylishly plays the supremely evil and charismatic vampire Lestat. Pitt is Louis, lured by Lestat into the immortality of the damned, then tormented by an unalterable fact of vampire life: to survive, he must kill. Stephen Rea, Antonio Banderas, Christian Slater and newcomer Kirsten Dunst also star. One lifetime alone offers plenty of opportunities for the savage revelries of the night. Imagine what an eternity can bring. Hypnotically directed by Neil Jordan (The Crying Game), Interview with the Vampire offers enough thrills, shocks and fiendish fun to last a lifetime…and beyond. MPAA Rating: R (c) 1994 The Geffen Film Co. All Rights Reserved.
The Silence of the Lambs
Clarice Starling, a gutsy FBI trainee haunted by her past, risks her life in an attempt to save a missing woman from certain death. The desperate, deadly search for a killer makes Clarice confront her deepest fears as she must confront and befriend convicted psychopathic serial killer Dr. Hannibal 'the Cannibal' Lechter, a monstrous brilliant psychiatrist, who can lead her to the murderer.
Gerald's Game
When her husband's sex game goes wrong, Jessie — handcuffed to a bed in a remote lake house — faces warped visions, dark secrets and a dire choice.
The Invitation
In this taut psychological thriller by Karyn Kusama (Girlfight, Jennifer's Body), the tension is palpable when Will (Logan Marshall-Green, Prometheus) shows up to his ex-wife Eden (Tammy Blanchard, Into the Woods) and new husband David's (Michiel Huisman, "Game of Thrones") dinner party. The pair's tragic past haunts an equally spooky present: Amid Eden's suspicious behavior and her mysterious house guests, Will becomes convinced that his invitation was extended with a hidden agenda. Unfolding over one dark evening in the Hollywood Hills, The Invitation blurs layers of mounting paranoia, mystery, and horror until both Will—and the audience—are unsure what threats are real or imagined.
Overlord
Nothing can prepare you for the mind-blowing mayhem that is Overlord. Mega producer
J.J. Abrams creates an insanely twisted thrill ride about a team of American paratroopers who
come face-to-face with Nazi super-soldiers unlike the world has ever seen. This critically
acclaimed, nonstop action epic will have you on the edge of your seat until the very last
shot.
Prime Video and Hulu
30 Days of Night
In the far Northern Hemisphere, the small town of Barrow, Alaska, experiences a solid month of darkness every year. Though most of the residents head south for the winter, some townspeople remain behind. However, those that stay regret their decision when, one year, hungry vampires descend on Barrow to feed. Sheriff Eben (Josh Hartnett), his wife (Melissa George) and a dwindling band of survivors must try to last until dawn breaks over Barrow's monthlong twilight.
Parasite
Meet the Park family, the picture of aspirational wealth. And the Kim family, rich in street smarts but not much else. Be it chance or fate, these two houses are brought together and the Kims sense a golden opportunity. Masterminded by college-aged Ki Woo, the Kim children expediently install themselves as tutor and art therapist to the Parks. Soon, a symbiotic relationship forms between the two families. The Kims provide "indispensable" luxury services while the Parks obliviously bankroll their entire household. When a parasitic interloper threatens the Kims' newfound comfort, a savage, underhanded battle for dominance breaks out, threatening to destroy the fragile ecosystem between the Kims and the Parks. By turns darkly hilarious and heartwrenching, Parasite showcases a modern master at the top of his game.
The Girl with all the Gifts
Humanity has been all but destroyed by a fungal disease that eradicates free will and turns its victims into flesh eating "hungries." Only a small group of children seem immune to its effects. At an army base in rural England, this group of unique children are being studied, subjected to cruel experiments. When the base falls, one little girl escapes and must discover what she is, and ultimately decide both her own future and that of the human race.
The Invisible Man
What you can't see can hurt you. Trapped in a violent, controlling relationship with a wealthy scientist, Cecilia (Elisabeth Moss) escapes in the dead of night and disappears into hiding. But when her abusive ex suddenly dies, Cecilia suspects his death was a hoax. As a series of eerie coincidences turns lethal, threatening the lives of those she loves, Cecilia's sanity begins to unravel while she desperately tries to prove she is being hunted by someone nobody can see.
Green Room
Down on their luck punk rockers The Ain't Rights are finishing up a long and unsuccessful tour, and are about to call it quits when they get an unexpected booking at an isolated, run-down club deep in the backwoods of Oregon. What seems merely to be a third-rate gig escalates into something much more sinister when they witness an act of violence backstage that they weren't meant to see. Now trapped backstage, they must face off against the club's depraved owner, Darcy Banker (Stewart), a man who will do anything to protect the secrets of his nefarious enterprise. But while Darcy and his henchmen think the band will be easy to get rid of, The Ain't Rights prove themselves much more cunning and capable than anyone expected, turning the tables on their unsuspecting captors and setting the stage for the ultimate life-or-death showdown.
---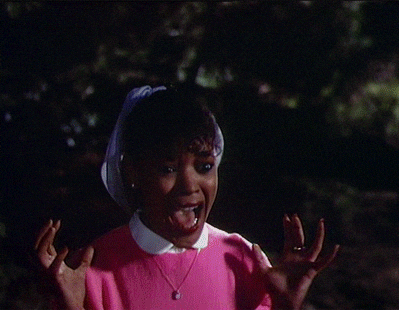 That's our list of some of the best horror movies streaming right now! No matter which streaming service you subscribe to, there's definitely plenty to watch this Halloween season.
---
You might also like:
The 10 best family-friendly Halloween movies streaming this October!